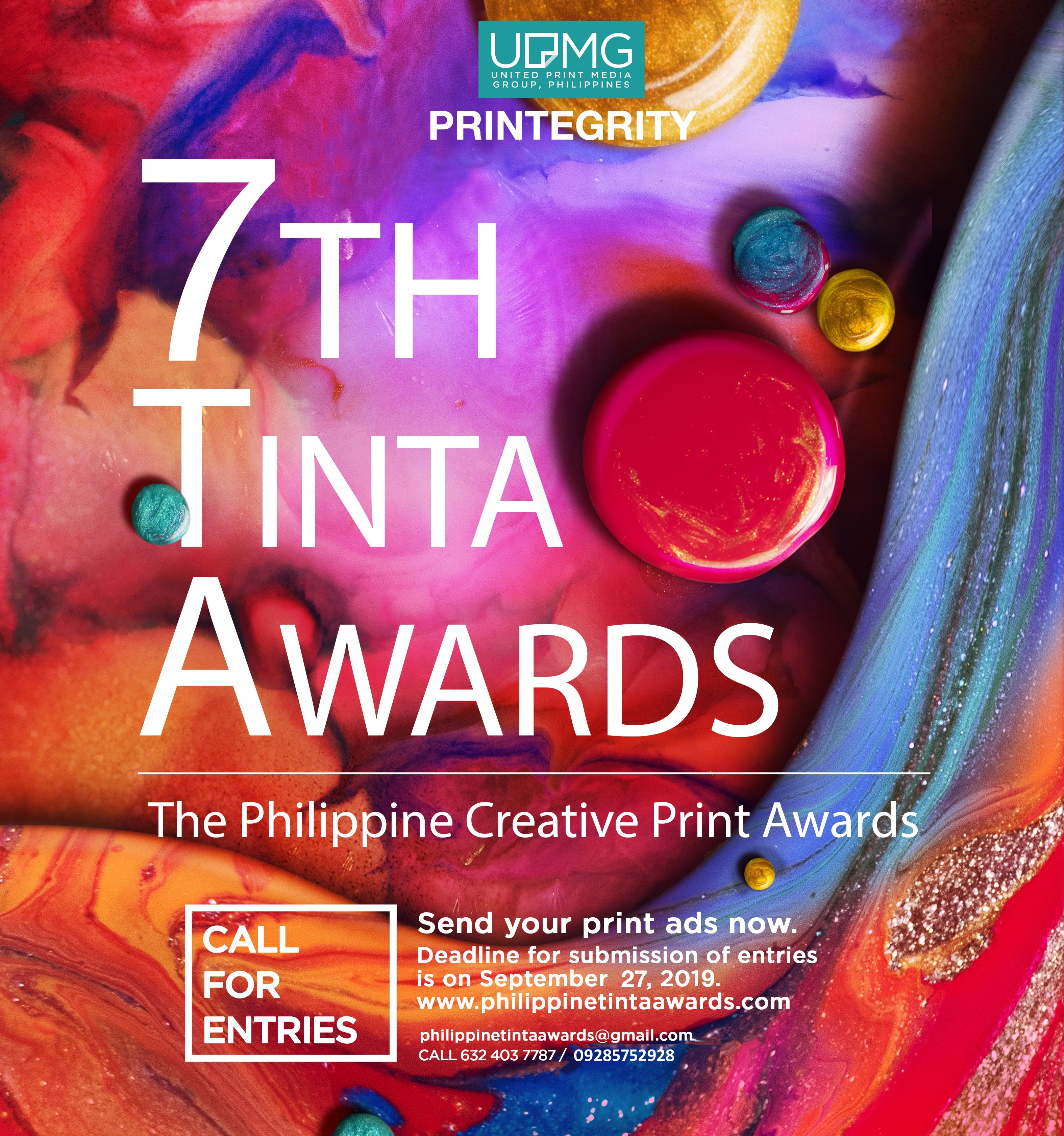 UPMG's 7th Tinta Awards Calls for Entries
To continuously uphold excellence and creativity in print media and advertising, the country's premier print media organization United Print Media Group (UPMG) will once again spearhead the Philippine Creative Print Awards, also known as the UPMG Tinta Awards.
Now on its 7th edition this year, the Tinta Awards recognizes the best and most creative print advertisements in the country. It is open to all Philippine-based advertising and media agencies, advertisers, publications, digital agencies, printing companies, and students.
This year's prestigious competition is expected to draw in a record number of entries, surpassing the previous year's total number of entries at 251. The deadline for submission of entries is on Sept. 27, 2019.  All entries must have been published or displayed for the first time between October 2017 and September 2019.
The Tinta Awards bestows awards and recognitions based on a number of categories: Print and Magazine Advertising (Consumer, Public Service, Interactive Print Campaign, Integrated Print Campaign, Special Print Media Execution, and Online Advertising Campaign); Print Craft (Best Copy, Best Art Direction, Best Typography, Best Illustration, Best Digital Imaging/Retouching, and Best Photography); Newspapers and Magazine Design, and Newspaper and Magazine Craft (Best Overall Newspaper Design, Best Overall Magazine Design, Best Newspaper Supplement Design, Best Newspaper Section/Feature Design, Best Magazine Section/Feature Design, Best Photography, and Best Illustration and Infographic).
To recognize the excellence and creativity of the young minds from different universities and colleges, the Tinta Awards also includes a Student Category composed of Print Ad Single, Print Ad Campaign, and Integrated.
Since the launch of Tinta Awards in 2008, some changes had been applied to promote inclusiveness and to cater to more participants. In the previous edition, some categories were added, including categories for magazine and newspaper layout and design, and special supplements. This year, the competition among branded contents and PR advertorials will be opened, as well as the PR and client agency of the year.
The panel of judges composed of distinguished luminaries from the advertising, publishing, media and creative industries will select the most outstanding entries from the roster of finalists. The criteria for judging includes originality, relevance and creativity.
The awarding ceremony will be held on Oct. 9, 2019.
For more information, visit www.philippinetintaawards.com, call 632 403 7787 / +639285752928, or e-mail [email protected] / [email protected].